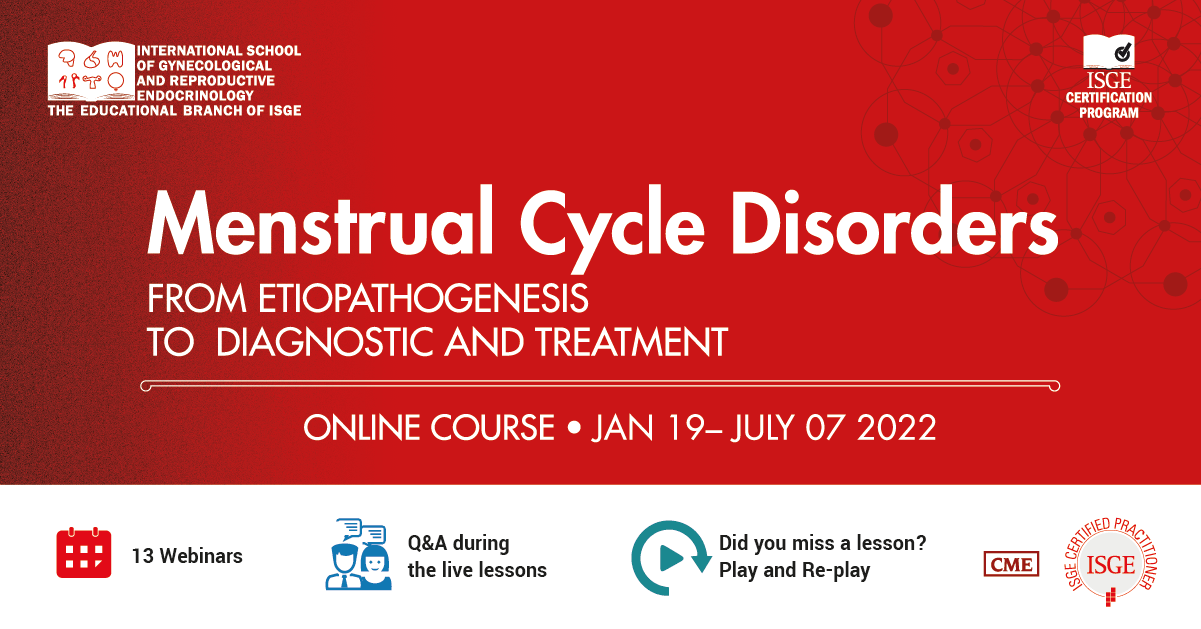 A 6-month online course which will cover the causes and the treatments of Menstrual Cycle Disorders in a series of virtual classes.
What is included:
• Live virtual classes allow active learning
• Access to all classes video recording for 1 year
• Comprehensively covers common menstrual disorders
• Learn from top-notch international experts
• 300 scholarships available for free registration
The board of the international Society of gynecological endocrinology decided to offer 300 scholarships that will cover the full registration cost of this course.
Criteria to be eligible for a scholarship are:
• To be a citizen of middle-low or low income country on the basis of the word bank list (link)
• To be either: specialist in gynecology and obstetrics, or specialist in endocrinology or general practitioner specialized in women's health.
These scholarships have been made possible through an unrestricted educational grant of Abbott
Description:
Menstrual Cycle Disorders (MCD) are the most common cause for patients to come for clinical consultation and this course provides an updated instrument for accurate diagnosis and therapies.
This course, starting from the explanation of physiopathology of the Menstrual Cycle and of the different structures and organs involved, clarifies our role in the evaluation of endometrium and the pharmacologic characteristics of the different steroids to be considered in the treatment of MCD.
Menorrhagia in adolescence or at menopausal transition, Dysmenorrhea and other cycle related pain syndromes, PMS and PMDD as well as Anovulatory Syndromes and Luteal phase defects, will be discussed for their diagnosis and therapies.
Furthermore, the course will clarify the impact of organic diseases such as Endometriosis, Adenomyosis and Uterine fibroids on MCD and on Heavy Menstrual Bleeding, and will clarify how to manage amenorrhea in oncological patients and bleeding disorders associated to Menopause Hormone Therapy.
The participant will experience a unique opportunity to be in contact with some of the most important scientists and clinicians, experts in the diagnosis and management of MCD and their complications.
This Course is part of the ISGRE School to become an ISGE Certified Practitioner and represents a fantastic opportunity to update your knowledge and clinical practice.
---